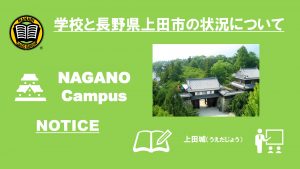 As a countermeasure to the spread of the new Coronavirus disease (COVID-19), Nagano Campus has changed the hours of each class since June, so all of the students can go to school at staggered class hours. Now that the summer vacation has ended, preparation and studies for higher education has officially started, students are also doing their best to study.
In Ueda City of Nagano Prefecture, where the Nagano Campus is located, there was a rise in the number of infected people during late August, therefore the Infection Alert Level was raised to level 4 out of 6. However, the situation has calmed down and the Alert has dropped back to level 2. Right now there is no new case of infection found in Ueda City.
In order to maintain an environment where students can safely study, we will continue with the infection prevention measures at school. We also ask the students to continue to be mindful and take steps such as managing your health by measuring body temperature everyday, wearing face masks, disinfecting your hands, not eating at school, maintaining physical distance with others, etc. Moreover, if the number of infected cases in the city or prefecture increases again, we will prioritize the safety and health of students, so we will change the form of classes in accordance with the situation.
(↓Below is the Public Awareness About Infection Prevention leaflet of Ueda City. To create an easier living environment for foreigners, the contents of the leaflet has been translated into 11 different languages and sent to subscribers of the Disaster Information Mailing Service)
https://www.city.ueda.nagano.jp/soshiki/jinkendanjo/32995.html