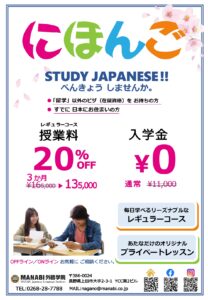 MANABI外語学院 NAGANO Campusでは、ただいま2021 year10月新入生を募集しております!
◆3か月の授業料 20%OFF 135,000円
◆入学金は無料!
◆"ゼロから始める初級コース"も"JLPT対策授業"もあります。
今からにほんごを べんきょうしませんか?
詳しくは、写真をクリック!
----------------
MANABI Foreign Language Institute Nagano School is currently recruiting new students in October 2021.
◆ 20% off from 135,000 yen, which is the tuition fee for 3 months
◆ Admission fee is free
◆ There are both "Beginner Course Starting from Zero" and "JLPT Preparation Class"
Why don't you get started learning Japanese from now on!
For further information, click the photo.
------------------
Học viện Nhật ngữ MANABI phân viện Nagano hiện đang mở lớp học kỳ tháng 10 năm 2021!
◆Giảm 20% học phí 3 tháng 135,000 yên
◆Miễn phí phí nhập học
◆Tổ chức khóa học Sơ cấp dành cho người mới bắt đầu cũng như khóa học luyện thi JLPT Hãy cũng học viện Nhật ngữ MANABI học tiếng Nhật từ bây giờ nhé? Để biết thêm chi tiết vui lòng nhấp vào đường link dưới đây!
------------------
โรงเรียนสอนภาษาญี่ปุ่น MANABI สาขานากาโนะ เปิดรับสมัครนักเรียนใหม่สำหรับภาคเรียนเดือนตุลาคม ปี2021
◆ ส่วนลดค่าเรียน 20% เหลือเพียง 135,000 เยน
◆ ฟรีค่าเเรกเข้า!
◆ มีทั้งหลักสูตรเริ่มต้นเรียนจากศูนย์ เเละหลักสูตรเตรียมสอบ JLPT
ต่อจากนี้มาเรียนภาษาญี่ปุ่นกันไหม ?
สำหรับรายละเอียดเพิ่มเติม กรุณาคลิกที่รูปภาพ
------------------
MANABI外語學院 NAGANO Campus目前正在招收2021 year10月新生!
◆3個月學費獲8折優惠  135,000日元
◆免除入學金!
◆有「從零開始的初學者課程」,亦有「針對JLPT的課程」。
從現在開始學習日語吧!
詳情請點擊圖片查看!
------------------
MANABI外语学院 长野校目前正在招收2021 year10月新生!
◆3个月学费获8折优惠  135,000日元
◆免除入学金!
◆有「从零开始的初学者课程」,亦有「针对JLPT的课程」。
从现在开始学习日语吧!
详情请点击图片查看!
■Contact us窓口:
どんな言語でもOKです!お気軽にContact usください。Any language is fine! Please feel free to contact us.
 〇Tel:0268-28-7788
 〇Mail:メール問い合わせ窓口
 〇Facebook:manabinagano