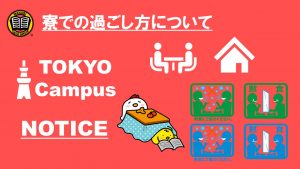 Dear MANABI student
We still need to pay attention to prevent infection from COVID-19.
Please still keep away from gathering and party.
Please do the followings to prevent infection
・Wash of disinfect your hands as often as possible.
・Gargle
・Sleep to take a firm rest.
・In the dormitory, please ventilate by opening the window of the room about 5 cm.
・You are advised to wear masks even while you are in your dormitory room.
・Please have meals alone, not together as possible.
・Please keep social distance each other.
・Please check your body temp. everyday and mind the change of your physical condition.
MANABI Japanese languages institute Tokyo