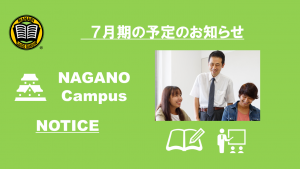 The July term began on July 9, 2020. As a countermeasure against the infection of pneumonia caused by the COVID-19, class hours is shifted for each class. The school will continue "staggered attendance" for the time being.
 Currently, no one is infected in Nagano Prefecture and in Ueda City and its surrounding areas where the schools are located. We have also strengthened measures to prevent infection in schools and has introduced new lifestyles so that everyone can attend school with the cooperation of students.
 We will continue to take preventive measures against infection and strive to preserve the learning environment where students can learn with peace of mind. We would also like to ask students to be careful not to eat at school or to keep away from others. 
In addition, when the number of infections in the prefecture and in the city increases again, according to the situation, students' safety and health are given top priority, and the class format is changed.