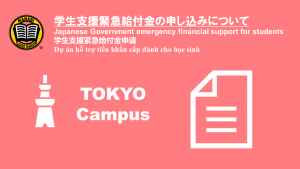 Dear students of MANABI Japanese Languagte Institutes Tokyo
Japanese government decided to provide 100,000 yen per person of financial support for students who have difficulty in continuing their studies due to the new coronavirus infection (COVID-19)
Students who wish to receive the support should apply to the school they are belonging to.
The number of the student those schools can recommend for the financial support to the government are limited by government for each schools.
Please note that not all students who apply are eligible for the benefits.
We will comprehensively examine student by school records, attendances, financial situations.
We will open the application from student to school online.
Application will be closed 7, June.
Application form for Japanese Government emergency financial support for students